Stained Glass at the Church of St Peter, Carmarthen
The Church of St Peter in Carmarthen is one of the largest churches in the region and boasts a varied collection of stained glass windows. As well as large windows by William Wailes and Alexander Gibbs, there are four windows by Joseph Bell & Son of Bristol, the last of which demonstrates the transition from the brighter primary colours of mid-century to the more subdued tones of the latter part of the century.
Fine early twentieth-century windows by Percy Bacon Brothers and Shrigley & Hunt can be found at the church, alongside a window by W.B. Simpson & Sons, a firm whose stained glass has not been recognised in Wales until the publication of this book. Later windows by John Petts add a more modern and abstract dimension to the collection of windows. All are illustrated in colour with additional details.
This book was funded by the Friends of St Peter's, with the help of a bequest from the late Miss Mary Margaret Woolof.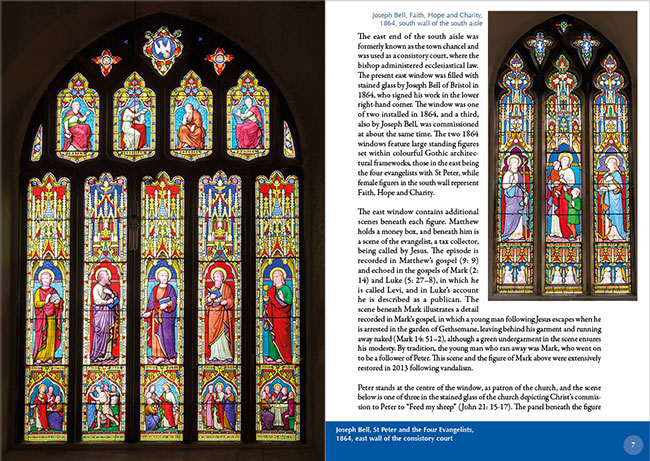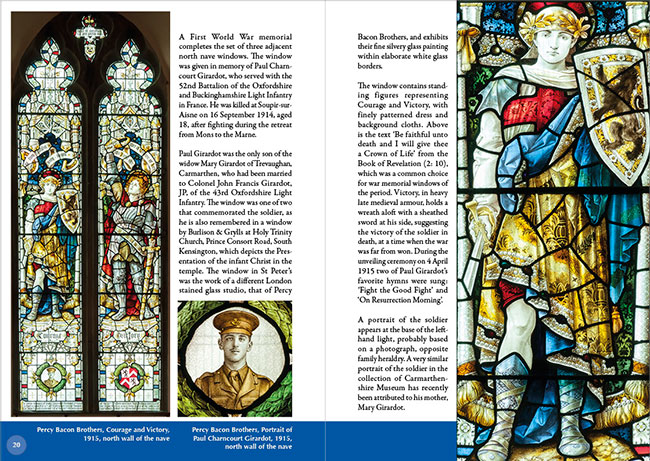 Copies are available at the church. Alternatively, contact books@sulien.wales or use the Paypal button on this page.
Review
'an object of joy in itself, radiant with rainbow colours on every page, focussing on details which celebrate the artists' drafting skills, imagination and use of colour in far closer focus than we could see for ourselves in the often high-set windows.'
Thomas Lloyd, The Carmarthenshire Antiquary
Sulien Books
art and craft, ancient and modern