Stained Glass at the Church of St Mary the Virgin, Tenby
This full-colour booklet was commissioned by the Friends of St Mary's and launched in September 2014. It illustrates and describes all of the stained glass extant in the church. There is Victorian glass by William Wailes, Clayton & Bell and W.G. Taylor, although some of the nineteenth-century stained glass has been removed. Four windows were added early in the twentieth century, two by Karl Parsons and two by the firm of C.E. Kempe & Co. Karl Parsons' second window is a war memorial and one of the finest stained glass windows in Pembrokeshire, while the Kempe window in the west wall is also a war memorial and among the firm's largest works in south Wales. A window of 1955 was made by John Hardman Studios, and a set of heraldic shields were added by John Baker in 1985.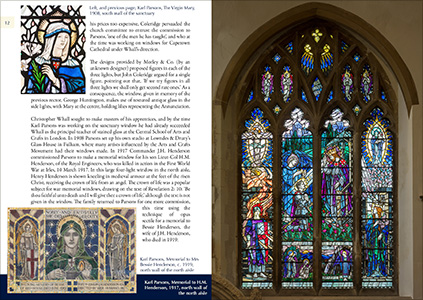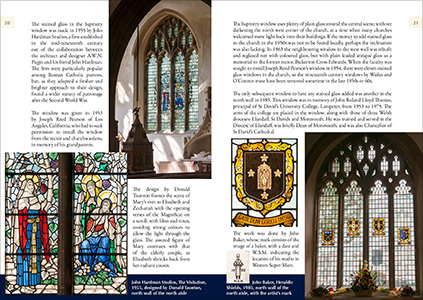 Copies are available at the church
The book was allocated an ISBN number after being listed with Sulien Books in November 2014.
Reviews
'That big things can come in small packages is certainly true of this guide ... Every church with a good collection of stained glass should have a guide like this'
Rob Scourfield Pobl Dewi
'[The church] is well worth visiting ... and this illustrated guide provides an ideal souvenir.'
Peter Cormack, The Journal of Stained Glass
Sulien Books
art and craft, ancient and modern