Stained Glass in Fishguard
Stained Glass in Fishguard includes windows from several churches in and around the port town of Fishguard. There are many twentieth-century windows in the Anglican church dedicated to St Mary, and the Catholic church has stained glass, including work by Theodore Baily and Clarke's of Dublin. The book includes windows in the church at Goodwick (now closed) built at the time when Goodwick was being developed as at transatlantic port, and Manorowen, a small rural church just beyond the southern reaches of Goodwick.
None of the stained glass at any of these churches dates from before the First World War, and the first of them is a pair of nave windows at Manorowen by James Powell & Sons placed as a war memorial in 1918. The firm made the east window there and more at St Mary's in Fishguard. Further windows of the 1920s at St Mary's were by Burlison & Grylls and Robert Newbery. Post-war windows at St Mary's were made by the Swansea firm Celtic Studios and by John Petts; Petts' 'People's Window' above the gallery at the west end of the church is among his best works. A window by Amber Hiscott in the town library of about 1992 completes the tour.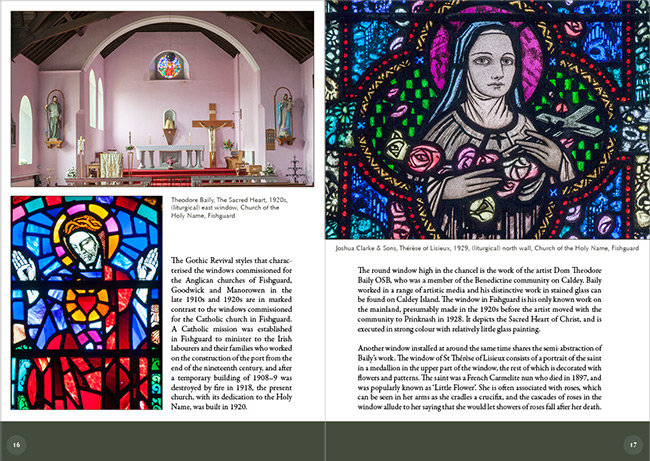 Copies are available at the church for £5.00. Alternatively please contact books@sulien.wales. All sales support the work of the church and its ministry to the local community.
Sulien Books
art and craft, ancient and modern