Samples
On this page are examples of design and photography projects undertaken as commissioned and independent work by Martin Crampin.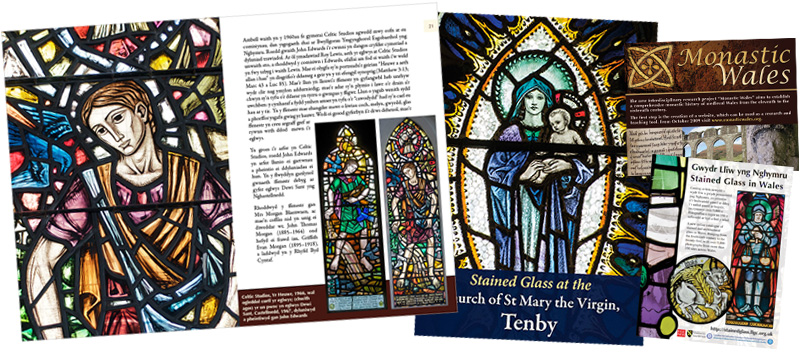 Above left is a spread from a book on the stained glass at Llanfihangel Genau'r Glyn, near Aberystwyth, and the cover of a similar guide to the stained glass at the Church of St Mary, Tenby. To the right are examples of promotional postcards for two academic resources on art, architecture and religious history.

The two spreads above are from the book Stained Glass from Welsh Churches by Martin Crampin. Researched, written and designed by the author, the editor of the British Art Journal thought that it 'may well be the most beautiful book ever on stained glass.' The reviewer of the book in the distinguished Welsh journal Archaeologia Cambrensis described it as 'the best survey of stained glass published anywhere in Britain.' For more spreads from the book and notes on reviews see the Stained Glass from Welsh Churches blog.

If producing a book is stretching the budget, an A4 folded guide, like these designed for the Friends of Friendless Churches is a much less expensive alternative. Another way in which churches engage with visitors and help to develop faith and heritage tourism is by providing information displays. Good quality portable pop-up, or roll-up, banners are now very economical, and can be very effective with professional photography and design.

Most visitors to historic buildings are able to take photographs with their cameras and phones, but how many are able to achieve the colour and detail of professional photography? These postcards, produced for the Gower church at Port Eynon, are of carefully selected details of windows by Celtic Studios and Glantawe Studios. The postcards draw attention to parts of the windows that probably often go unnoticed, and potentially make them more widely known.
Sulien Books
art and craft, ancient and modern