Sulien
Sulien is a Welsh form of the personal name Julian, although the name has rarely been chosen by Welsh parents, which, as a guide for English speakers, should be pronounced silly-en. It is also the name of a little-attested saint, sometimes confused (incorrectly) with Silin – the Welsh form for Giles – who was a popular saint in the later Middle Ages. According to medieval Welsh tradition, Sulien came with Cadfan from Britanny, and he is the patron of the church at Silian, near Lampeter (below). He is also patron of the churches at Corwen, near Llangollen, and Cwm, in Flintshire, sharing the dedication with another arrival from Britanny, Mael.

The greatest resonance of the name in Welsh history is with the eleventh-century cleric, Sulien of Llanbadarn Fawr, who was celebrated by his contemporaries as 'the most learned and most pious of the bishops of the Britons'. According to a Latin poem written by his son, Ieuan, Sulien was born at Llanbadarn Fawr (below), a monastic centre in west Wales, but travelled to Scotland and then to Ireland to study. He returned to Llanbadarn Fawr, where he was evidently the senior figure of its scriptorium.

Sulien was uniquely bishop of St Davids twice. He was entreated to become bishop in 1073 when he was about sixty years of age, but resigned the office in 1078. After his successor Abraham was killed in 1080, he was persuaded to become bishop for a second time, receiving William the Conqueror in 1081. He resigned again in 1085 and died on 31 December 1091.
No writings of Sulien have survived, but literary works by his sons are rare examples of insular Latin literature of the period in Wales. Poetry by his sons Rhygyfarch and Ieuan survive in manuscripts written at Llanbadarn Fawr and now held at Trinity College, Dublin, and Corpus Christi College, Cambridge. Their writing indicates familiarity with a library that included works by Vergil, Ovid, Boethius and many other Latin writers. Rhygyfarch was also the author of a prose work, 'Vita sancti Davidis' (Life of St David), which is the earliest life of the patron saint of Wales.
Ieuan ap Sulien's work as a scribe is preserved in the manuscripts in Dublin and Cambridge, which feature zoomorphic and interlaced illumination characteristic of the Celtic-Christian manuscript tradition. As scholars are reluctant to ascribe the more celebrated (and much earlier) Book of St Chad to a Welsh scriptorium, despite its earliest-known location at Llandeilo Fawr, illumination in the late eleventh-century Rhygyfarch Psalter (below), made at Llanbadarn Fawr, represents the best example of this kind of ornament known to be executed at a medieval Welsh scriptorium.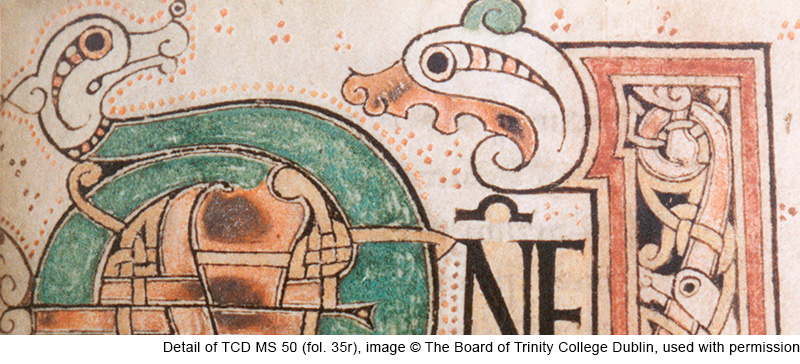 Sulien Books was established in 2014, in Aberystwyth, within the historical parish of Llanbadarn Fawr in west Wales.
Sulien Books
art and craft, ancient and modern